How to Make Tomato Juice, Its Nutrition and Benefits
How to make tomato juice and importance of eating healthy food. As vegetable, tomato is a delicious and healthy vegetable having high nutrition food values. It contains vitamin A, C, calcium, iron and potassium. Tomato is the second highest vegetable in considering the production all over the world, according to the survey of production. 16.4 million ton of tomato are produced in 2012 all around the world.
China is the first, India is the second and United State is the third according to the production. The rate of production in our country is increasing day by day. In spite of increasing the production rate, all most 32.9 produced vegetable damages during the collection. So, the producer faces with loss.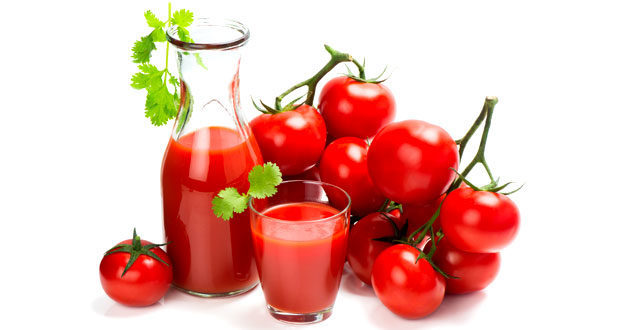 Make Tomato Juice
Tomato is a perishable vegetable and due to the crisis of supply, the price of tomato raises to the high in the warmer seasons. So, being processed, tomato can be served all around the year. We can consume it as ketchup, sauce, pure, paste and broth. About 80-90% tomatoes, which is produced commensally, is processing by conservation in America and by this way, the supply is made possible throughout the year. Processing not only enhances reservation but also increases value added and offers employment opportunity. The tomato juice is a soft drinks that refreshes body and provide nutrition. It is popular among air passenger in various countries. More than 17 lakhs litter of tomato juice is supplied among 2 armor air passenger in 2008.
The juice produced from tomatoes are not only minimize damage after collection, but also keep the balance between demand and supply. Again producer gets standard value. We can ensure the proper usages of tomatoes by producing juice of tomato properly. Producers become benefited with the supply of tomato. Besides, making tomato juice at house is very simple and it is possible to fulfill the demand of nutrition of family members. You want to see how to grow tomato.
Preparing Method of Tomato Juice
Choose the full ripen tomato or cherry tomato with red color and find out the tomato which is simple and not ripen properly; keep them aside. To make it soft, keep the selected tomato under 70-9000 C temperature for 5 minutes and make sure the seeds have been separated from the mixture. Tomato should be clean properly and cut into small pieces. We can also use 0.5% salt, 2% sugar, 0.4% citric acid according to the amount of juice.
Follow the Steps below
We can add 10 gm. sugar, 5 gm. salt and 1gm. citric acid for 1 litter juice (can also use lemon instead of citric acid).
For reserving it for a long, add 1 gm. Sodium benzoate per litter.
Apply a spoon of juice and mixed it with sodium benzoate. Then apply the mixture with the whole. (TSS must be 5%)
Package the juice in bottle while the mixture is somewhat hot. (Bottle must be Sterilized being washed into boiled water for 30 minutes)
Make the juice cool and label the bottle.
Preserve it into the
This video credit by – BlendHappy
Nutrition and Health Benefits
Tomato juice is a soft drink rich with beta carotene (IU 1094/ cup) and the mineral. It contains high potassium (558 mg. / cup) which controls high blood pressure, Beta carotene helps to increase the eye sight.
Tomato juice contain high lycopene which is heat stable and it increases at double or triple rate when we prepare the juice under high temperature. Research show that, a cup of fresh tomato contains only 5 mg lycopene but a cup of processed juice contains 21 mg lycopene. It is a pigment and powerful anti-oxidant. Protects us from cancer and heart disease. It destroys free radical produced into human body by high anti-oxidant and protests from free radical damage.
According to the British journal of nutrition, drinking 100 ml of tomato juice everyday reduces 5-9% cholesterol and decreases Blood clotting
In addition, tomato juice contains calcium, iron, vitamin B, vitamin c, folic, which our body accepts readily and quickly remove fatigue, weakness and traces.
We can preserve it for a long time by storing in bottle of tin. It is a powerful, energetic drink and attractive food.
Tomato juice keeps our liver healthy and active. Regular consumption improves digestion process and prevents us from constipation.
Tomato juice is rich with vitamin K – is one of the most essential elements for our bones. Thus, tomato juice plays an important role building our bones providing the requirements.
A survey says that regular consumption of tomato juice prevents acne and damage of our skin cell.
Stroke has been a major concern of the day. A recent survey has proved that tomato can minimize the stroke mortality rate for having lycopene. A great thanks goes to lycopene.