Growing Coriander in Pots or Containers at Home
Growing Coriander in Pots or Containers at Home. Winter is a time for growing various vegetables as well as salad. Coriander salad is one of winter vegetables. The English name of it is parsley. people use it to make tasty curry for long time. There have a good news for cities dwellers, we can cultivate in containers or pot on the roof at home.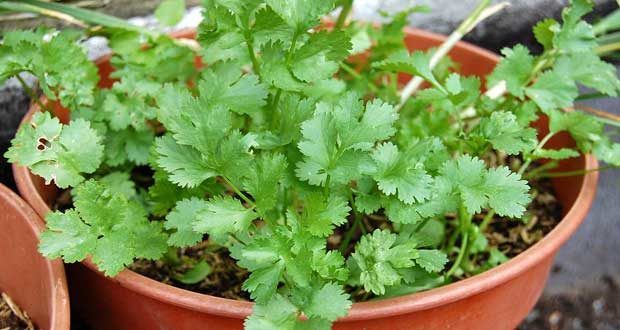 Nutrition of Coriander
Food value is much higher in coriander. It contains calcium, iron and a lot of carotene. The facilities of firming it are cultivating many times.
Time for sowing
Coriander is actually winter vegetables. This vegetable does not grow too much during the summer. But it is the end of summer that is to sow the seeds before winter comes.

Sowing seeds
The seed of coriander will grow quickly if you soak it 24 hours in water by wrapped with cloth. We should select the seed with wide mouth for coriander. Sow the seeds into 3 to 4 cm depth then cover with soil .We need not to irrigate the land when the land is enough petty.
This video credit by – Love To Cook

Next Care
If the soil is dry enough, we should irrigate the land within 2 days at least. We notice that birds cannot eat leaf and ants cannot eat at the time of sowing chlorpyrifos can be sprayed for suppress ants.
Thinning of Trees
It tree becomes more densely, you should make think of this tree by dropping leaf and eat it before becoming more big.
Coriander Production Method
It can cultivate in all types of soil but sandy loamy is highly suitable. We should ensure the irrigation system for cultivation.
Land Preparation
Plough 4 or 6 times and use ladder to make equal according to soil.
Sowing Seedling
We should wet the seeds with water about 24 hours before sowing. If you sprinkle the seeds you will need twice seeds. We need 4-5 kg seeds for row system while being cultivating with other crops mixing.
Fertilizer Apply Method
150-300 kg urea, 100-200 kg TSP, 80-100 kg MOP and 7-10 ton cow dung are applied per hector for cultivation in that soil which have some fertile. Half cow dung, full TSP and half MOP are applied at the time of land making. The rest half cow dung are given in scaffold before one week of sowing seedling.
We must continue regular irrigation. Urea and the rest half MOP are applied in 3 installment. First installment is 8-10 day after planting and the rest manure are given 30-35 days after planting seedling.
Transitional Care
After growing 10-15 day seedling for leaf cultivation, one seedling is kept in every 5 cm per row for seed cultivation. One seedling is kept in every 10 cm per row. Weeding out with hoe and soil should be loose. The roots of trees get a lot of light and air by breaking creak immediately after coming dry by irrigation. So the growth rate easily raise it cannot tolerate water. So you should remove additional water or rain water in 2-3 days.
Growing Coriander in Pots or Containers at Home, How to Grow Tomatoes and Tomato Plant Care, growing coriander in pots, containers at home goods, growing coriander in pots, Growing Vegetable All The Year Round, growing cilantro in pots, how to grow coriander in pot, nutrition facts of coriander leaves, time for sowing coriander seeds, growing coriander in pots, coriander fertilizer, How to Get Top 10 Importance of Minerals for Health, growing coriander in pots, coriander plant in pot, how to plant coriander seeds in pot, Health Benefits of Mushrooms and Its Nutritional Value.