Bitter Melon Juice at Home, Its Nutrition & Health Benefits
Bitter melon juice at home is a very simple process. The very vegetable is also known as bitter gourd. Bitter melon is one of the most popular vegetable known specially for its medical related food values. Today we will learn how to make juice from bitter melon. It is very easy and simple to make at home.
Elements for It
A little element is required for making a glass of juice from bitter melon. They are as below:
Green or ripen bitter melon 1 -2 piece/ s
A sharp knife
Salt
A cup of water
Ice
Honey – 1 table spoon
Process to Follow
Cut the bitter melon into small pieces
Select the seeds out.
Minimize the bitterness by keeping the pieces into the salt water for a while if you want so.
Blend the melon until it turns into pure liquid.
Add some honey to make it sweet if you like to do so.
Nutrition of Bitter Melon
Bitter melon juice contains a lot of vitamin A, B and C as the green beans, cucumber, cabbage, broccoli and pumpkin has. At the same time, it contains beta carotene, iron, zinc, potassium, and magnesium as we can get from tomato juice, papaya juice and carrot juice. All of them are highly valuable to our health.
There is no difference of nutrition if they are different in size. To be cured from fever, such juice is the best homemade remedy.  Along with these, bitter melon juice protects our liver, cures our skin problem and minimizes fever possibility for the future.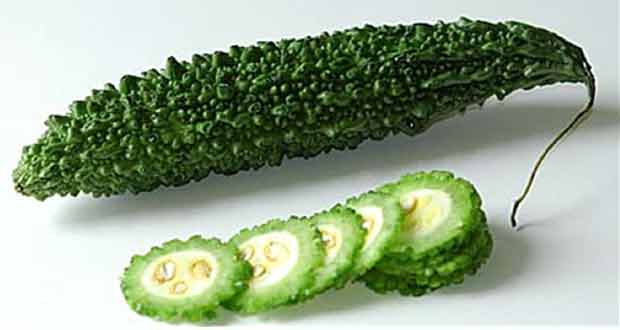 Health Benefits of Bitter Melon
A report reveals that regular consumption of the juice destroy the cancer cell from our body. The iron of the juice helps to maximize the hemoglobin of our blood. It cares our teeth and bones. Also it controls blood pressure. Beta carotene plays an important role developing our eye sight. To cure skin diseases and to destroy worms, it has hardly any comparison.
The test of bitter melon is bitter. So, many of us might get jumped hearing the juice of it. It is full with nutrition in spite of being bitter. For a long, the juice had been used for diabetic treatment.
It is truth that the importance of bitter melon juice is not possible to describe in words. In short, it is a better homemade remedy which we can use to cure several diseases. We can make the juice easily to cure any one of the problems, according to our wish. Making bitter melon juice will improve the habit of drinking it. Bitter melon nutrition will keep us fit and strong for the working days and will heal us from several disease as well.
"bitter melon juice, bitter gourd juice, bitter gourd juice for weight loss, bitter gourd juice for diabetes, bitter gourd for weight loss, benefit of karela, bitter gourd juice for skin, bitter gourd benefit, bitter gourd good for kidney, bitter gourd good for health, bitter gourd juice benefit"