Health Benefits of Spinach (Red) and Nutrition
Health benefits of red spinach and nutrition are immense. It is one of the delicious vegetable as well. Who does not like to eat red spinach? It develops its appeal to the people all over the world not only for its attractive external appearance but also for its nutrition and health benefits. Let's have glance on its nutrition before talking about it.
Nutrition of Red Spinach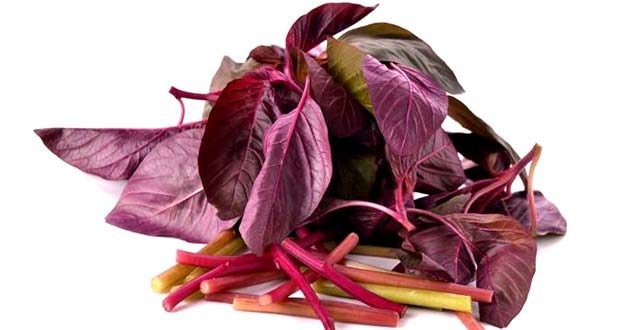 It contains a lot of vitamin A as we can get from green beans, okra and broccoli. In comparison with other vegetables, it contains the highest amount of calcium and it is 374 mg per 100 gm.
Along with calcium, red spinach contains us protein 5.38 mg, carbohydrate 4.96 mg, fat 0.14 mg, vitamin B1 10 mg, B2 0.13 mg, vitamin C 42.90 mg, carotene 11.94 mg, and other minerals 1.06 mg. food calorie is 43.
Health Benefits of Red Spinach
Prevents the disease caused by calcium logging
Anti oxidant helps to prevent cancer
Manages the level of cloistral in our blood thus reduces the possibility of heart diseases.
Beta carotene of res spinach reduces the risk of heart attack.
Makes the memory sharper and liver stronger.
Contributes to shape the bones and teeth.
Prevents the malnutrition of the baby.
Reduces our weight.
Is helpful for the diabetic patient as it contains a little amount of calorie.
The fiber improves digestion and removes constipation
It prevents scurvy caused by the lack of vitamin C.
Along with these, red spinach also plays a vital role in curing some deadly diseases. They are as below.
Prevents Kidney Diseases
To keep our kidneys clean, fresh and active, red spinach has hardly any comparison. Besides, it is especially useful for those women who have recently delivered their children.
Makes Our Eyesight Good
Red spinach contains a lot of vitamin C that heals our eyes and makes our retina brighter. Thus it contributes to our eyesight as well.
This video credit by – Foods4Health
Preventing Anemia
Red spinach is mostly useful to prevent anemia as it contains a lot of iron. You can also prepare juice from it. Add some additional elements like egg, honey, lemon juice and red spinach and blend them with a little amount of water. Drink it every day for a better outcome. You can also try bitter melon health benefits for the same purpose.
Make the Hair Strong
It is also essential for our hair. Make a paste of red spinach and salt, collect the juice and apply it over the head like oil. Wash after a while. Apply such juice twice or thrice in a week.
Curing Fever
It is well known that red spinach is essential for our health. But hardly have we known that it also cures fever. Eat fried spinach every day during fever and get cured from it gradually. Thus, red spinach's nutrition and health values are really fantastic. It plays an important role making us physically strong, active and fit. In short, red spinach is mostly grown only for its health benefits and high food value. You can also see Cucumber Benefits of Health and Nutrition Facts.