How to Grow Cucumber and Its Nutrition and Care
How can we grow Cucumber? Is there any training required for Cucumber farming?  What is the production cost? Does Cucumber have any noticeable food value? Today we will discuss about Cucumber. Cucumber is one of the noticeable vegetables.  Scientific name is cucumis satives. Cucumber is farmed almost all over the country. It is started producing commercially that provides an opportunity to create self employment among a huge amount of youths.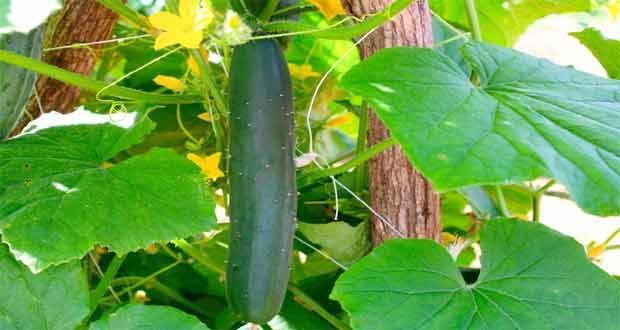 Nutrition of Cucumber
It is a green vegetable like green beans, bottle gourd, Okra, luffa. Cucumber contains a lot of vitamins 'A' and also has carbohydrates, calcium and plenty of water as we can get from tomato juice.
Market Prospects
Cucumber's salad is a favorite and tasty food item to all. It is mainly produced to be eaten as salad. So the demand of Cucumber lasts for all the days of the year. Besides, it contains much water. In the summer, when the weather is hot, Cucumber earns much demand for having cold water into it. We can meet with the demand of our family and can sell the extra produced Cucumber to the market. However, Cucumber is an exportable vegetable.
Varieties of Cucumber
Cucumbers are of various kinds and types. According to their color, size and creed, mainly Cucumbers are of several types; Gemini, Victory, Pioneer, Hybrid, Mariner. The main female types of Cucumber are Table green 65, Spartain valar, Burpee hybrid.

The American Cucumbers are long, dark green and especially soft as found in the super market. The Asian Cucumbers, as we find, are also long, slender like shaped. There are several types of Cucumber without these. One can select them for farming according to his desire, need and expectation.
Cucumber Production Method
Cucumber is mainly a warm season vegetable. So, the plantation should be during the summer. Cucumber seedling is sensitive, cannot germinate or grow at fogy, cold and misty season. So, to save the seedling and to maximize the production, we need to start the farming process at the beginning of summer.
Nature of Soil
Loamy and clay loamy is perfect for farming Cucumber. The land must have enough moisture.
Land Preparation and Sowing the Seeds
Plough the land crossly 3-4 times; make the land a level with ladder.
Make each scaffold far 2- 2.5 from one another. Distance can be minimized in cause of farming it in farm land.
4/5 seed is sowed in per seed hole. It can be farmed making a lift of bamboo over the land.
Applying Fertilizer
According to the farmers, organic manure should be used as far as possible during the land preparation. Additional fertilizer should be applies testing the soil. But the use of organic manure keeps the environment fresh and increases the production rate as well. If it not possible for you to produce the cow dung, manage it from the neighbor as it is mostly required for farming it. Domestic rubbish and other kitchen rubbish can be used for preparing the organic one.
Attendance of Cucumber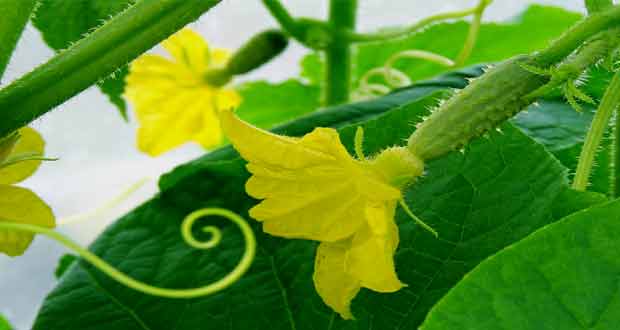 Irrigation should be regular
Break down the soil clods and clean the weeds as they come out.
Tie a bamboo platform.
Maximize the production by means of artificial pollination. Mix the male trees with the female one as soon as you can identify them.
Apply the toxic trap to get rid of the flies and other

harmful insect

.
Collecting the Vegetable
To collect Cucumber, we need to cut it with a knife from the mother tree. Clean the vegetable with a clean cloth. Store it in a shadowy place or cover it by a cloth or sack.  We can also store it in an air resisted poly bad after dried into sunshine.
Training
Before starting the farming, train yourself properly for expected production. It will be better to have advice from the person who has already produced it successfully. In case of any urgent crisis, we must have a consultation with the nearest Agriculture Officer fixing the problem.
Frequently asked
How many seeds is required for per acre?
Answer: About 250 grams.
Which kinds of soil are suitable to grow well?
Answer: Loamy and clay loamy soil.
What is the time to sow the seeds?
Answer: At the very beginning of summer.
Following these steps, one can easily grow Cucumber to meet with the demand of required water, nutrition and minerals during the hot summer days. You want to see health benefits of cucumber.
"how to grow cucumber, how to plant cucumbers, how do cucumbers grow, how to plant cucumber seeds, how many cucumbers per plant, how to grow cucumbers in a pot, how to grow cucumber, how to grow cucumbers vertically, how long do cucumbers take to grow, how long does it take for cucumbers to grow, how to grow cucumber, how to grow cucumber at home, how long for cucumbers to grow, how to grow cucumber, how to harvest cucumbers, how to care for cucumber plants, how to grow cucumbers uk, how to plant cucumber plants."