Looper Insect of Cabbage ‍and Cauliflower
There are several harmful insect that attack our cabbage and cauliflower firm. Looper insect of cabbage is one of them. Actually the insect destroys the leaves especially the leaves of cauliflower and cabbage and thus, causes a great harm to the production. You can also see looper insect general information.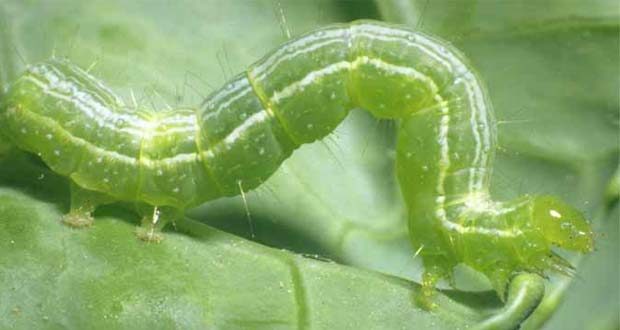 Identifying the Insect
An aged moth of looper looks brown and gray brown in color. The female moth lays an egg per leaf. The egg has a light green colored cover and it is not round; somewhat edged. The egg breeds into the insect within 3 days. The newly born insect creates a circle made from own saliva.
From the circle, a fully grown moth comes out after 13 days. At the primary stage, the insect turns the plant almost leafless. Besides, attacking the cauliflower and cabbage, it also attacks tomato, potato, lettuce, peanut, spinach and destroy the production to the core. The leaves look like a net being affected by the insect.
Attendance
To control the looper insect of cabbage, we need to visit the land regularly and collect the affected leaves soon after they are noticed. The leaves along with the eggs or moth must be destroyed strong handed. We can also apply pesticides controlling the insect.
When we will notice 1 moth for per 10 plants, we can apply the chemical of course by the recommendation of an agriculture officer. Actually, to control such insects, pesticides are used not to kill them directly but to make them weaker and distasteful to the vegetable.
Prevention
We must clear the weeds from the farming area especially from the cabbage type of weeds on which the insects can take shelter. Such kind of insect is naturally attacked by a disease and turned into yellow and gray white. Such an affected insect can be collected and mixed with water to spray the whole firm.
The other healthy insect can be affected being sprayed. The distance must be maintained while planting. If the proper distance is maintained, the looper cannot move from one to another. Also, we need to spray the leaves' top and bottom properly.