Bean Diseases, Symptom and Prevention Quick Guide
Anthracnose is a type of fungal disease. Generally, this disease widespread outbreak in bean cultivation. Wet sign with different unequal shape is seen on fruit and leaf of bean for this diseases. This sign turn into black and burn the edge direction of leaf. You can also see green bean diseases, symptom and prevention.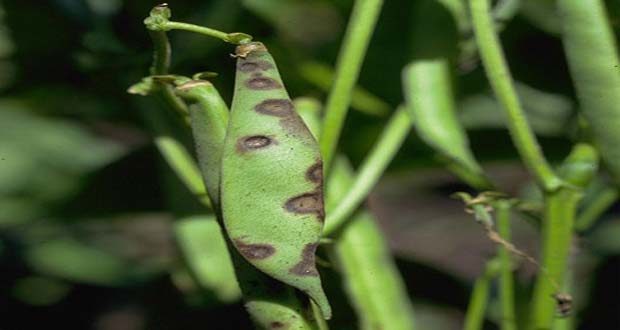 Anthracnose is basically seed borne disease. To save the cultivation of bean from this disease, before planting to refine seed, Carbendazim 50 should be purified by any one of the drugs such as Doubly, Deism, Karzai, Fire, Senjim, Kabistin Jake Stin and others. 3 gram per kg of any medicine from this can be used. Any one from dayathin M45, indophil M45, lujam 45 and Uthin m45 can be used 3 gram per litter for. If you want to grow bean is very easy.
Powdery mildew
Powdery mildew is a serious disease for bean. Circle shape spot is seen when bean is affected by this diseases. Gradually it spreads all over leafs and at last lefts are dropped down.

Sulfur 806 WP, sultacus, sultaf etc. can be sprayed per 2 letter water to protect bean cultivation at primary level and can be sprayed 2 times every 7 days.
Tip Incline Diseases
Leaf and tip wilt for this fungal incline diseases. The stems do not grow, the trees grow dormant. There is no cure for this disease. However, for the disease not to attack, prepare the seeds before planting the seeds. Without it, plant the seeds of tolerant varieties.
Insects of Bean
The bean beetle looks like a dung insect. Their color is in copper, there are 16 black spots on the solid wings. Both insects attack almost everywhere on the tree and destroy trees. To remove the insect from the cultivation, it is necessary to use Carbendazim 50 EC Sethion, Stormal, Elthine, Maltox etc. Spray each 1 liter of water mixed with 2 milliliters fertilizer.
Aphid Infestation of Beans
Aphid Infestation destroys the tender leaves, top of the seedling, flower and devours the green juice of the vegetable. Due to such attack, the plant becomes weak, affected tree cannot breed any flower. Most often the flower and the tender vegetable fail dawn.
As they can cause a great harm to the whole farming area, they should be controlled carefully. We can apply pesticides destroying the insects. For control this insects can use andro sulfur 35 EC 2 ml per one litter water can be spray. It will be better to have a consultation with an agriculture officer to get proper management.
Organic Solution
A bulb of garlic
A small onion
A tablespoon cayenne (red) pepper
2 tablespoons liquid soap
A quart water
A Spray bottle
At first chop onion and garlic so mix with tap water. Then add cayenne pepper and let sit for one hour. Then add soap. Now you mix it well. When the blend will be stabilized, put it in the spray bottle. After one or two weeks later, it will be continue.