How to Grow Kale at Home Indoor Veg Gardening
Now it's March and most probably you are looking for some tips to grow kale indoor. Growing kale inside your room is very interesting and simple only if you think that you have the right kind of equipment for this purpose. You know that kale needs approximately eight hours of sunlight for better maturity and growth. Also you can ensure this by letting your kale just after a south facing window or you can install an artificial source of light. You must ensure enough nutrition for your kale. For this, you can apply container soil. Also kale requires for a moderate moisture and you should irrigate regularly.
If you are opting to grow some micro greens, it'll take just few weeks. You must for about two months if you like to enjoy your fully grown kale.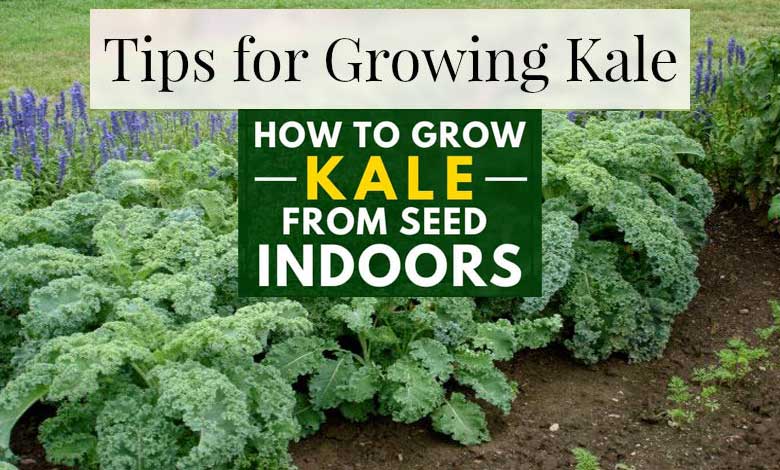 Growing your kale indoor
Don't you have enough space outside to develop a garden? Or, simply do you want to grow kale throughout the winter? Don't worry. It is possible. The answer is to grow kale indoor. Much like the other greens, kale is also an ideal vegetable to farm inside. Never your kale demands a lot of space; only it requires for a fair amount of light. At the same time, growing some kale inside will reduce the risk of pests and diseases. To get rid of aphids, cabbage worms and other pests, just start with the seeds which are clean and apply sterile potting mixture. Ensure more safety for your kale by providing enough space if possible and by controlling excess irrigation.
Varieties to try
Selecting a dwarf variety of kale is an ideal choice to grow kale indoor. Some of them grows up to 3 feet tall and 2 feet wide. Don't be puzzled if the size crosses the limit as there may be overwhelming considering the state of temperature, soil and attendance.
Dwarf blue curled is such a dwarf variety that can have a length and width of one foot.
Selecting location for kale
As kale needs almost eight hours of sunlight in a day, it may be difficult to find out a suitable location for them to thrive. Depending on the layout of your house, you must select such a location that will let your kale to enjoy more sunlight. If you are planning to grow some kale in the winter, a room of south facing window will be an ideal selection for this purpose. Also you can plant for such a place where you think you can install an artificial light source if there is no room having south facing windows or enough sunlight.
And if you are about to grow them under the artificial lights, don't switch on you lights for 24 hours. May be kale needs enough light. It does not essentially mean that the vegetable will grow better under 24 hours of light. It'll tell upon your greens and of course you'll turn off your lights when you come back to home at evening or at late afternoon.
Needs for your kale to grow indoor
If you think that only light is enough for kale, you are wrong. Beside moderate light, you should ensure sufficient food and water. For the best outcome, you need to set the temperature in right range.
And if you don't have a window that can ensure enough lights for your kale, you can grow your kale just inside room temperature. Need not to worry much, just ensure your room temperature under 70-degree F. select a pot that has enough holes at bottom or has several drainage facilities. A pot of twelve inches by eight inches is the best selection for this purpose.
Apply some potting mixture of soil for your kale as general soil will create difficulty for drainage and also may cause water logging. General soil also may increase diseases possibility and that may damage or destroy your whole production. Also potting mixture is essential to ensure required nutrition for your kale.
Never you should forget to water your kale regularly. Of course it is your first and main duty to observe the soil so that it cannot get dried. Kale needs nitrogen to develop the green leaves properly. Make a regular schedule of applying some fertilizer to ensure necessary elements.
To grow some micro greens indoors
It's easy to buy some micro greens from a grocery shop or from a farmer's shop. But you can grow some of them easily and they are very cheap to grow indoor. Do you think your space to be very limited? Don't worry. Grow some micro kale instead of matured one.
All you'll need are a wide container and shallow in order to grow the sprouts. Firstly, you'll fill the container with potting soil. Please don't forget to dampen the mixture with water. Sow the seed thickly to create a layer over the top. Burry the seeds with one or half inch of soil so that they cannot be damaged or devoured. Let your soil dry after sowing for best germination. To ensure enough warmth, you can allow the seedbed container near a sunny window or you can install an artificial light over it. Once they are seen, transfer to the other container maintaining a considerable distance.
Harvesting kale
Never you should forget to pick the outer leaves only. To ensure new growth, you must consider the inner and middle stem. Also you won't annihilate the whole plants as you expect a second or more harvest from them. Trim them applying herb scissors. And, if you are looking for some micro  greens, harvest them when the plants are about to 5-6 inches tall.
"how to grow kale, how to harvest kale, how to plant kale, what to grow in march uk, how to grow kale indoors, how long does kale take to grow, Best Tomato Trellis Ideas, how to grow kale from seed, how to harvest kale so it keeps growing, Grafted Tomato Plants With Potato, how to plant kale seeds, how to harvest kale leaves, how does kale grow, how much sun does kale need, how do you harvest kale, How to Graft Guava Tree, how to grow kale from cuttings, How to Grow Eggplant, how to grow kale uk, how to grow kale at home, kale how to grow, how to harvest kale from garden."